Scary Golf! – Volkswagen Golf R with BMC CRF Kit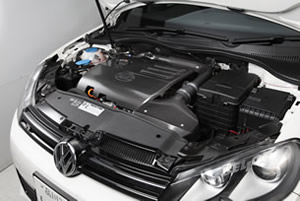 It only takes 5.1 seconds for the Golf R prepared by Italian Sports Car team Moreno Soli Racing, to go from 0 to 100 km/h, and 13.6 seconds to travel the standing 400 metres. Until a few years ago these were real supercar times.
Today however these times have been brought to a VW sports compact with some simple soft tuning and a new BMC Carbon Racing Filter kit. What makes these great times possible? Certainly launch control and four-wheel drive are a great help, but also the horsepower hidden under the bonnet is very important. This Golf R prepared by Moreno Soli, sports car racer from Bologna Italy, really has the power to deliver even considering that our tests were conducted on a really hot summer day when the temperature exceeded 35 °C.
The starting point is the Volkswagen Golf VI R, equipped with the 265 HP turbocharged TFSI engine with KKK K04 turbocharger and the Haldex all-wheel drive system. On this engine Moreno Soli has made some minor adjustments, including the installation of a high flow catalytic converter, an internal change to the original exhaust tailpipe, a tailored adjustment of the direct rail injection to increase fuel pressure, a reprogramming of the ECU and finally a brand new BMC air filter designed specifically for the Golf TFSI called CRF (short for Carbon Racing Filter).
The range of CRF filter kits are designed and produced by the BMC Racing and Advanced Composite Division in Italy, which is wholly focussed on the development of air filters and aspiration systems for the racing world including Formula 1 and MotoGP. This new state of the art product includes applications for vehicles like Audi R8 V8-V10, Lamborghini Gallardo LP560, Ferrari 458 Italy, Nissan GT-R 35 and also for sports road cars such as the Audi S3, Audi TT, Golf GTI MkV and many more.
In essence the new CRF uses the dynamic intake present on the front of the car to power a generous carbon air box, inside which is placed a filter element that takes advantage of the performance features guaranteed by BMC filter technology. The CRF airbox is powered by a dynamic intake and is very efficient, thanks to its special shape, it is able to provide a significant increase in the air intake to the engine and a drastic reduction of its temperature.
The CRF kit also includes the connecting pipe with embedded airflow meter and throttle-port, all produced in high-grade carbon fibre using state of the art technology and designed for durability, lightness and the highest level of quality, as well as the engine oil vapour filter vent, accessories and installation instructions.
Completing the kit is a beautiful carbon fibre engine cover, which replaces the original because it contains the original air filter which breaths hot air low in oxygen. In addition to ensuring a substantial increase in the amount of air exhaled with enormous advantages in performance, the BMC CRF kit gives a very attractive look when you open the bonnet.
Thanks to these adjustments and a boost pressure of 1.5 bar peak and 1.1 constant, the dyno test on this Golf R carried out by Moreno Soli delivered a maximum power of 334 BHP at 4,932 RPM and 446 NM of torque at 4623 RPM. The supply curve is very full, as is usual for this type of engine, while the excellent stretch allows it to maintain an output of almost 300 BHP even when approaching the maximum rotation speed at 7,000 rpm.
THE RESULTS
POWER 334 HP @ 4932 RPM
446 NM of torque @ 4623 RPM
0-100 km / h in 5.1 seconds
13.6 seconds standing 400 meters
THE TUNING
– BMC CRF Air Filter Kit complete with carbon fibre engine cover
– Electronics reprogramming + rail injection modified by Moreno Soli
– Exhaust modification + high flow catalytic converter